* King James Version Bible
* Scofield Reference Bible commentary
* Cross-reference
* Offline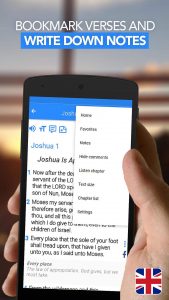 Are you looking for a good Study Bible?
Welcome to the Scofield Study Bible, the perfect Bible app for Bible scholars or Christian readers of the Holy Word.
KJV BIBLE with SCOFIELD REFERENCE BIBLE COMMENTARY
This Bible combines the most renowned English Bible, KJV, with the Scofield reference work that provides a complete tool to help to read and understand the Scriptures.
Cyrus Ingerson Scofield was an American theologian, minister and writer born in 1843. He was an eloquent preacher and very famous for his well-known Reference Bible. His notes and commentaries of the Bible had a big circulation in Europe and America.
CROSS-REFERENCE and SUB-HEADINGS
Cross-references identify commonalities between different parts of the Bible. You can navigate through similar themes, verses and words. This tool may help you to understand the meaning of some difficult passages.
The sub-headings express the contents of the chapter and help to organize and divide the Bible.
MORE FEATURES:
– Scofield Study Bible is free
– Audio text facility: hear the complete Bible
– Save verses to a bookmark list and add text passages
– For comfort reading, you can increase or decrease font size
– Set up night mode to read at night without hurting your eyes.
– Share any passage or verse of the Bible with your family and friends
– Offline mode
Scofield Study Bible has 66 books divided into the Old and the New Testament:
Old Testament:
– The Pentateuch: Genesis, Exodus, Leviticus, Numbers, Deuteronomy.
– Historical Books: Joshua, Judges, Ruth, First Samuel, Second Samuel, First Kings, Second Kings, First Chronicles, Second Chronicles, Ezra, Nehemiah, Esther.
– Books of Wisdom (or Poetry): Job, Psalms, Proverbs, Ecclesiastes, Song of Solomon.
– Books of the Prophets:
Major Prophets: Isaiah, Jeremiah, Lamentations, Ezekiel, Daniel.
Minor Prophets: Hosea, Joel, Amos, Obadiah, Jonah, Micah, Nahum, Habakkuk, Zephaniah, Haggai, Zechariah, Malachi.
New Testament:
– The Gospels: Matthew, Mark, Luke, John.
– Acts
– Pauline Epistles: Romans, 1 Corinthians, 2 Corinthians, Galatians, Ephesians, Philippians, Colossians, 1 Thessalonians, 2 Thessalonians, 1 Timothy, 2 Timothy, Titus, Philemon.
– General Epistles: Hebrews, James, 1 Peter, 2 Peter, 1 John, 2 John, 3 John, Jude.
– Revelation